Loz Lawrey - Singer/Songwriter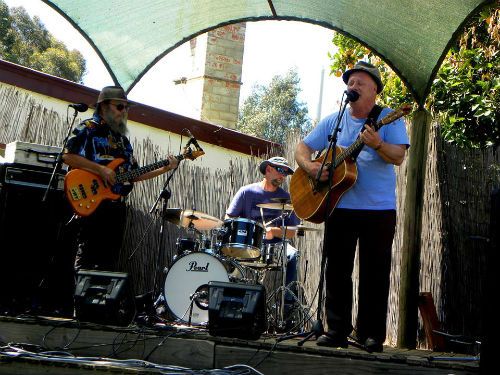 Loz Lawrey – Biographical Notes
I was born in the wagon of a.... Seriously though, I've always loved music. The first songs I remember hearing as a small child were "Davy Crockett" and "Rudolph The Red-Nosed Reindeer". Later in the very early nineteen-sixties I recall lying on floor of the family living room playing my parents' folk records over and over: Peter Paul and Mary, with their harmony singing, were my favourites at the time, and we owned every album they'd released.
The music we love as teenagers seems to stay with us as we travel through life. In a bargain bin outside our local record store I found singles by some of the Atlantic label stars of American rhythm and blues: Otis Redding. Wilson Pickett, Joe Tex, Aretha Franklin, Carla Thomas and many more. That love of soul music has never left me, and songs like "In The Midnight Hour" feel as though they're encoded in my DNA.
Locked up in boarding school I discovered that music had the power to free me and uplift my spirit, to transport me to a place of possibility and hope. I discovered Bob Dylan, The Band, the Beatles and The Rolling Stones.
In my early twenties I lived in London. It was the era of the concept album and it was the done thing to gather with friends, get high and lie around listening to the latest releases, from Jethro Tull to the Grateful Dead.
At this time I began to teach myself some guitar chords, with the help of some Bob Dylan songbooks, and discovered that I could sing. The Irish singer/songwriter Van Morrison became a huge influence, and remains so to this day.
Throughout my life I've been a musical dabbler, singing in various cover bands and at countless parties. For me, music has always been one of many interests.
These days, I'm a solo artist.
I'm based in Central Victoria, in the Castlemaine/Bendigo region.
I also visit Canberra regularly to record my songs at the studio of my producer, David Pendragon.
I play the odd gig and can sometimes be found busking in spring and summer.
As well as writing and performing my songs I am a blogger, writing about politics and current affairs from a "man in the street" perspective. My articles are published in the Australian Independent Media Network.
In 2020 I plan to be touring about Australia in the campervan I've just done up, playing, singing and blogging as I do.
This new mobility means that I'll be available for gigs, house and caravan park concerts anywhere in Australia.
I'm currently working on my third CD with my producer David Pendragon.