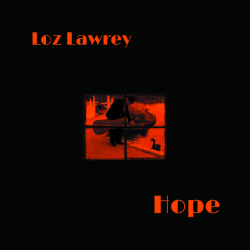 "Hope" Physical CD Copies - Loz's latest CD
Australian singer-songwriter Loz Lawrey's latest album was released on 31 July 2018. It is a collection of lyrical, melodic songs on themes of hope and social justice, sung from the heart.
Hope is a human capacity.
We are gifted with an innate ability to visualise, yearn for and create a better world in which the fulfillment of our human potential is a real possibility.
Sometimes hope is all we have.
When it seems we have nothing left and no further to fall, hope's beckoning light remains.
Hope keeps us going, onwards and upwards.
Hope provides the vision that inspires and motivates us to come together, care for each other and build a society of mutual respect, encouragement and support.
Without hope, we have nothing.
Musicians:
Loz Lawrey: vocals, acoustic guitars
Craig Marshalsey: bass guitar
Elrond Veness: bass guitar
Roberto Ciuffetelli: drums
Donovan Gall: drums
Duncan Beard: drums
Andrew De Teliga: violin, resonator guitar, electric guitar,
bass guitar, Turkish saz, Arabian oud, Japanese koto
Matthew Davies: electric guitar
Heather Roche: violin, viola, clarinet
Juanita Du Plessis: violin
Baz Cooper: accordion, Fender Rhodes piano
David Williams: resonator guitar
Dominic Robin Guda: Indian vocals (writer and singer), tabla
Nitya Bernard Parker: Indian bamboo flute
Edna Lam: concert harp
David Pendragon: harmony vocals
Produced and arranged by David Pendragon.
Recorded, mixed and mastered by David Pendragon
at "The Studio", Canberra, Australia.
Tracking Engineer: Jack Buchanan
Artwork: Loz Lawrey
Photographic portraits: Nancy Chappell
Front cover photograph: Kelly Shine
Website: lozlawrey.com
"Leaving Sadland" Physical CD Copies
"Leaving Sadland", a collection of 14 original songs, was recorded in 2014 and released in April 2015.  Produced by award-winning sound engineer and music director David Pendragon, it is a kaleidoscope of  audio imagery, as Loz's deep yet light-filled voice takes you to places near and far, on a trip across time and space.
Physical copies of "Leaving Sadland" are available for purchase here. Get your exclusive SIGNED copy today. 
$20.00 including postage within Australia.